Amazon drops Nokia Lumia 520 for AT&T GoPhone to $50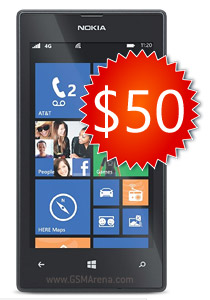 The Nokia Lumia 520 is subject to yet another price cut. This one comes from Amazon, which dropped the entry-level Windows Phone 8 handset for just $50 on AT&T's GoPhone pre-paid plan. That's with free shipping too.
This is the same price as the initial Microsoft Store deal, but that was later changed to $60 (before taxes).
$50 is a great deal for a phone with a 4″ WVGA screen and dual-core Krait, no wonder the Nokia Lumia 520 is the most popular WP8 device by far (it accounts for over a quarter of all Windows Phone devices, including WP7).
Other deals include a Lumia 521 for T-Mobile for $80 from Walmart and Amazon and 521 for MetroPCS for $90 from Amazon and Best Buy.