LG, HTC, Huawei set to lose market share due to low sales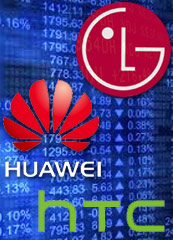 Consistent with mobile trade analysts noted via DigiTimes, plenty of sensiblephone makers together with LG, HTC and Huawei is also on the right track to lose treasured market share in 2014. This can be a results of the regular, however general low gross sales of the makers' flagship fashions.
The undisclosed analyst says that the HTC One gross sales were flat considering that its launch in late March 2013 regardless of the phone's awards and acceptance. That could be linked to the bad monetary efficiency that HTC has been having lately.
LG, too, is facing difficulties as it hoped the G2 flagship to score them 2013 sale figures north of 10 million units. The reality, however, is that the phone only managed to reach 2 million sales. Analysts reckon the reason for the low sales performance is that LG released the Nexus 5 too soon after the G2 and this stopped the momentum of the G2.
Huawei is doing better than LG with its Ascend P6 smartphone. The Chinese maker sold three million units with reportedly, the company's lackluster marketing efforts being responsible for the poor sales.
In conclusion, the report concludes that the centralization of smartphone purchases by telecom operators will continue to cast its shadow on unsubsidized smartphone sales in the coming year.
As usual, you should take preliminary information like this with a heavy dose of salt. It's only after we see the official figures by the manufacturers will we know the truth.