Motorola Moto G hands-on
The Motorola Moto G has been all the rage recently being hyped as the best-spec'd entry-level offering in the market right now.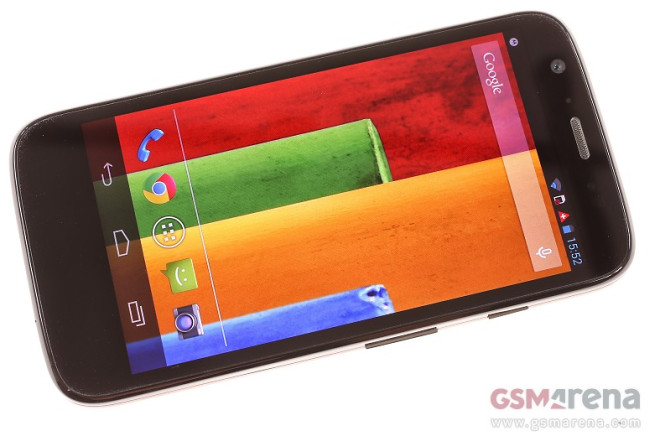 It's made its way into our offices, and we're stealing it away for a quick peek before our review team takes it away.
The Moto G runs on a 1.2 GHz quad-core Snapdragon 400 processor with 1GB of RAM and 8/16GB of internal memory. It has a 4.5-inch 720p display covered in Gorilla Glass 3, as well as a 5MP shooter and 1.3MP front-facer, all powered by a 2070mAh battery. The Moto G runs on Android 4.3 Jelly Bean, but is expected to be one of the first midrangers running 4.4 KitKat after next month's planned upgrade.
For a quick look at what the Motorola Moto G offers both hardware and software-wise, check out our brief hands-on video:
The Moto G has a pleasantly-textured removable back panel, which can be replaced with one of 7 different color options. Opening the back panel is not the easiest of tasks, but at least it fits more snugly along the device. Underneath, you'll find the microSIM card slot and the non-removable battery.
The development is strong and includes a particularly hefty weight for one of these quite small device. The aspect buttons are slightly tiny, however they make up for that with good tactile comments.
The Motorola Moto G will not be with out its share of disappointments, most significantly the shortage of microSD card to amplify the quite restricted storage. The non-detachable battery can also be a drag, and the shortage of extras within the retail package deal (it most effective comes with a USB cable) isn't precisely best. That being stated, a few of these downsides are greater than made up for by way of the very low pricetag, and the 50GB of complementary Google Pressure storage fairly compensates for the low interior reminiscence.
Remember to take a look at again with us later this week for our full review on the Motorola Moto G.