Samsung Galaxy S III LTE version gets its Android 4.3 update
After Samsung released Android 4.3 for the global Galaxy S III I9300 the I9305 LTE variant is getting its due serving.
The update is coming over the air but may take some time to arrive at your smartphone doorstep so try to be patient.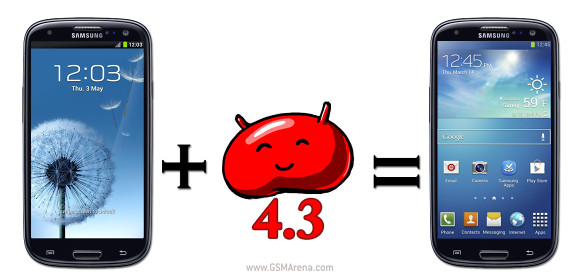 The update brings the Galaxy S4 UI and many of its features, including Galaxy Gear support, TRIM (which significantly increases performance), the new Samsung keyboard, the new lockscreen, Adapt display screen mode, the Sound and Shot camera mode, move to SD feature, the Galaxy S4 S-Voice version and much more.
You can check out the complete changelog below courtesy of Sammobile and if you want to see a breakdown of the release by carrier can check out their tool for that under the Source link.
CHANGES AND IMPROVEMENTS IN ANDROID 4.3 UPDATE
GALAXY GEAR Support
TRIM Support (Makes the device much faster)
Core UI elements updated to the ones on the Galaxy S4 (Galaxy S4′s theme all over)
New Samsung Keyboard
GPU drivers have been updated (Higher GPU benchmark scores)
New Lockscreen: Multiple Widgets, improved ripple effect than Android 4.1.2, ability to change clock size and set a personal message
New Screen modes (From S4): Adapt Display and Professional Photo
Daydream
Driving mode
Actionable notifications
Move-to-SD-card feature
New Camera mode : Sound and Shot
New Additions in Notification Centre
Completely revamped Settings UI (Tabbed interface – Exactly like the Galaxy S4)
Implementation of Voice controls (Let's you control various parts of the phone using voice commands – Galaxy S4 feature)
New Samsung Apps: Calculator, Clock, Contacts, Gallery, Music
Full screen Samsung apps
New S-Voice (from Galaxy S4)