Three UK launches 4G network, drops roaming charges in USA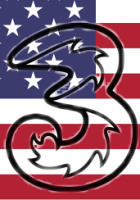 The UK carrier Three brought some great news to its subscribers today. Three has just launched its 4G network across the UK, but its rollout will speed up quite a lot in the next month and finish by the end of Q1, 2014. So, a pretty large portion of the Three UK users will able to enjoy 4G networks next spring at no additional cost.
Three has also announced it is now dropping the roaming charges for the USA, Indonesia, Macau and Sri Lanka. This means the Three UK customers will be able to use their free minutes, texts and data when traveling abroad. The calls and messages to non-UK numbers will be charged as before, of course.
The carrier is already offering the same roaming-free services for 9 countries – Australia, Austria, Denmark, Hong Kong, Ireland, Italy, and Sweden. They are part of the Feet At Home package and Three plans to expand their availability in even more countries in the future.